1. Be More familiar with LGBTQ-related terminology
LGBTQ Glossary
I want to say 'gay' flow chart
Words that are transphobic and why
Independent Lens – 2 spirits map (Website)
On nearly every continent, and for all of recorded history, thriving cultures have recognized, revered, and integrated more than two genders. Terms such as "transgender" and "gay" are strictly new constructs that assume three things: that there are only two sexes (male/female), as many as two sexualities (gay/straight), and only two genders (man/woman).
Yet hundreds of distinct societies around the globe have their own long-established traditions for third, fourth, fifth, or more genders. The subject of Two Spirits, Fred Martinez, for example, was not a boy who wanted to be a girl, but both a boy and a girl — an identity his Navajo culture recognized and revered as nádleehí. Meanwhile, Hina of Kumu Hina is part of a a native Hawaiian culture that has traditionally revered and respected mahu, those who embody both male and female spirit.
Most Western societies have no direct correlation for this tradition, nor for the many other communities without strict either/or conceptions of sex, sexuality, and gender. Worldwide, the sheer variety of gender expression is almost limitless. Take a tour and learn how other cultures see gender diversity.
3. Begin to recognize LGBTQ bullying and oppression
Bullying and LGBT Youth (PDF)
While trying to deal with all the challenges of being a teenager, lesbian/gay / bisexual/ transgender (LGBT) teens also have to deal with harassment, threats and violence directed at them on a daily basis. LGBT youth are nearly twice as likely to be called names, verbally harassed or physically assaulted at school compared to their non-LGBT peers. [1] Their mental health and education, not to mention their physical well-being, are at-risk
Safe Spaces. Safe Places: Creating Welcoming and Inclusive Environments for Traumatized LGBTQ Youth 2015 (Video)
This video introduces the viewer to the needs of Lesbian, Gay, Bisexual, Transgender and Questioning (LGBTQ) youth who have experienced trauma.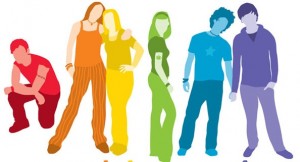 4. Understand some of the struggles of LGBTQ individuals
A Place in the Middle (Video)
A PLACE IN THE MIDDLE is the true story of a young girl in Hawaiʻi who dreams of leading the boys-only hula group at her school, and a teacher who empowers her through traditional culture. This kid-friendly educational film is a great way to get students thinking and talking about the values of diversity and inclusion, the power of knowing your heritage, and how to prevent bullying by creating a school climate of aloha – from their own point of view!
Coming Out as YOU! Guide (PDF)
The Trevor Project's Coming Out As You guide can help you through your own process. Inside you will find questions that many young people think about and blank spaces to brainstorm how you might answer them.
Growing Up Trans (Video)
Just a generation ago, it was adults, not kids, who changed genders. But today, many children are transitioning, too -- with new medical options, and at younger and younger ages. In Growing Up Trans, FRONTLINE takes viewers on an intimate and eye-opening journey inside the struggles and choices facing transgender kids and their families.
5. Have ideas of ways to be more welcoming and supportive of LGBTQ youth
A Practitioner's Resource Guide: Helping Families To Support Their LGBT Children (PDF)
This resource guide was developed and is being disseminated throughout health and social service systems to help practitioners who work in a wide range of settings to understand the critical role of family acceptance and rejection in contributing to the health and well-being of adolescents who identify as lesbian, gay, bisexual, and transgender.
Caring for LGBTQ Children and Youth (PDF)
This booklet was developed to provide you with information about the care and support of lesbian, gay, bisexual, transgender and questioning children and youth. This guide includes information on terminology and several basic, but key, tips on how to best support and care for LGBTQ children and youth.
Getting Down To Basics – Tools to Support LGBTQ Youth In Care – Families Supporting an LGBTQ Child (PDF)
For some birth, foster or adoptive parents, learning that a child is lesbian, gay, bisexual, transgender or questioning (LGBTQ) can be a very diffi cult juncture. For others, this information is welcomed and recognized as a sign of trust. How a parent responds to their LGBTQ child will have an enormous impact on the child's development and on the quality of the parent-child relatio
Family Acceptance Project (Videos)
These videos are informed by our years of research and work to help diverse families support their LGBT children.
These stories of transformation, hope and love that show how very diverse families integrate deeply held religious and personal values with love for their LGBT children.
Supporting Your LGBTQ Youth: A Guide for Foster Parents (PDF)
In this factsheet, you will learn about LGBTQ youth in the child welfare system, the unique risks they face, and the important role that foster parents can play in reducing those risks. You will discover specific actions that you can take to create a welcoming home for all youth in your care and to promote your youth's health and well-being in the community. At the end of this factsheet are links to many resources for more information and support.
6. Have language, tools, and resources to use with LGBTQ youth
Getting Down To Basics – Tools to Support LGBTQ Youth In Care – Overview of Tool Kit (PDF)
Lesbian, gay, bisexual, transgender and questioning (LGBTQ) young people are in America's child welfare and juvenile justice systems in disproportionate numbers. Like all young people in care, they have the right to be safe and protected. All too often, however, they are misunderstood and mistreated, leading to an increased risk of negative outcomes. This tool kit offers practical tips and information to ensure that LGBTQ young people in care receive the support and services they deserve. Developed in partnership by the Child Welfare League of America (CWLA) and Lambda Legal, the tool kit gives guidance on an array of issues affecting LGBTQ youth and the adults and organizations who provide them with out-of-home care.
Getting Down To Basics – Tools to Support LGBTQ Youth In Care – Caseworkers with LGBTQ Clients (PDF)
If you work with young people in foster care, you probably have clients who are lesbian, gay, bisexual, transgender or questioning their sexual orientation ("LGBTQ"). These young people are at high risk of harassment, abuse and self-destructive behaviors, and too often suffer from misunderstanding and mistreatment by the child welfare systems that should protect them. LGBTQ young people, like all of your clients, deserve to be treated with respect and sensitivity. There is much you can do to help your LGBTQ clients make healthy transitions from foster care to adulthood.
LGBTQ Resources Hawaii (Website)
This site is for you – as providers, allies, supporters, advocates and community members – to discuss and access a variety of resources, engage in pertinent and valuable discussions, push the boundaries of your own comfort zones and connect with others.
Training, Consultation & Program Development (Family Acceptance Project)
We provide training and consultation to enable families, providers, clergy, religious leaders, agencies and systems of care to use the Family Acceptance Project's (FAP) family support strategies, resources and intervention model – which are based on our extensive research and intervention work – with diverse families, foster families and caregivers to decrease their LGBT children's risk and to promote their well-being.